Hosted on Friday 21st January 2022, the first in a new monthly series of epicurean evenings features delectable dishes crafted by two Italian culinary experts, Chef Gaetano Palumbo and Chef Salvatore Catania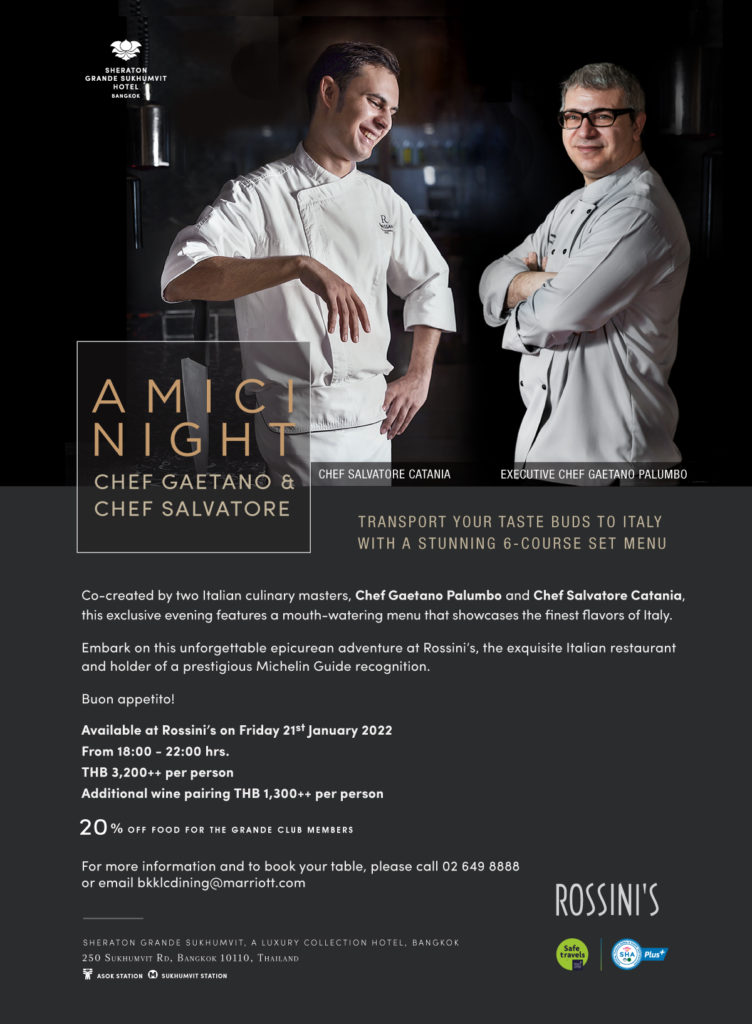 Bangkok, Thailand – Sheraton Grande Sukhumvit, the iconic Luxury Collection Hotel in the heart of Bangkok, is inviting guests and local residents to start 2022 in style this January, with a sublime six-course set dinner co-created by two culinary masters at Rossini's, the celebrated Italian restaurant.
Hosted on Friday 21st January 2022 (18.00-22.00 hrs), the Amici Night dinner has been curated by Chef Gaetano Palumbo, Sheraton Grande Sukhumvit's renowned Executive Chef who grew up in Sicily and has 20 years of experience in award-winning restaurants and five-star hotels, and Chef Salvatore Catania, who hails from Piedmont and specializes in blending the flavors of northern and southern Italy.
These two leading Italian chefs have come together for the first time to devise a mouth-watering menu that showcases the finest ingredients from land and sea, all prepared to perfection and served in a stunning setting at Rossini's, which has been designed to resemble a beautiful Tuscan villa.
A multi-sensory journey through the farms, fields and fishing villages of Italy, the menu starts with Chef Gaetano's Battuto di Tonno, ocean-fresh tuna tartare served with burrata and sturia caviar on brioche bread, followed by Chef Salvatore's Polpo Arrosto, a refined dish of charred octopus' tentacles with celeriac espuma, roast pepper cream and salsa verde oil.
The gastronomic double act continues with Chef Salvatore's Zuppa alla "Gallipoli", a light yet rich and aromatic "Gallipoli" fish soup with potatoes, mussels and razor clams, and Chef Gaetano's Tagliolini all'uovo con Gamberi Rossi Crudi, handmade tagliolini pasta with red prawn tartare, stracciatella cheese, arugula, hazelnut pesto and lime – bright, vibrant and full of the flavors of the Mediterranean.
Guests can then choose from two mesmerising main courses: Chef Salvatore's elegant Merluzzo con Verdure Verdi, snow fish fillet with charred green beans & asparagus, brown butter fumet and citrus powder, or Chef Gaetano's luxurious Filetto di Vitello alla "Rossini", milk-fed veal with foie gras and black truffle jus. This exceptional menu ends with Cocco Bello, an indulgent chocolate and coconut mousse by Chef Gaetano, followed by premium Italian coffee.
Born and raised in a fishing community at the heart of Sicilian cuisine, Chef Gaetano is a certified Master Italian Chef from the acclaimed Accademia Barilla and has worked alongside Michelin-starred chefs around the world. As Executive Chef at Sheraton Grande Sukhumvit, he oversees the hotel's eight restaurants and bars, including Rossini's, which has been awarded the Michelin Plate.
Hailing from the city of Turin in northern Italy, Chef Salvatore worked in some of the best kitchens in the Piedmont region before spreading his wings and moving to the Middle East to create outstanding cuisine for diners at the Kempinski Hotel Ajman. Since 2018, he has led the team at La Tavola, the renowned Italian restaurant at Renaissance Bangkok Ratchaprasong Hotel.
The "Amici Night" dinner marks the first in a new monthly series of exclusive epicurean events at Rossini's. The six-course menu is priced at THB 3,200++ per person, with an optional wine pairing for THB 1,300++ per person. For more information and to book your place at this unmissable occasion, please call 02 649 8888 or email: [email protected] or LINE https://lin.ee/6Lb32ZZ
20% off food for The Grande Club members, please contact 02 649 8560 or email:[email protected]
For more information, please contact Tel. 02 649 8888 or email: [email protected] or LINE https://lin.ee/6Lb32ZZ