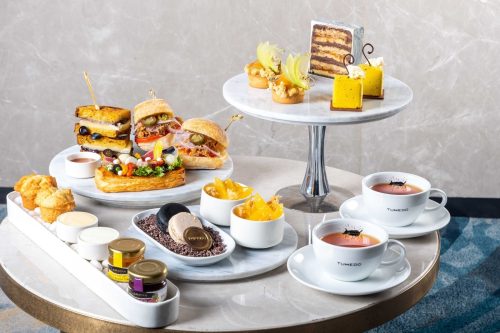 Tuxedo Espresso Bar in Carlton Hotel Bangkok Sukhumvit unveils new afternoon tea set, curated by Pastry Chef Kritnakorn Rooplek or Chef Den, who recently won the Iron Chef Thailand Competition in the dessert category.
Celebrate life over a cup of tea and enjoy a combination of nine sweet and savoury delights including two pots of TWG Loose Tea or Coffee of your choice.
THB 980++ per set for 2 persons
THB 1280++ per set for 2 persons including 2 glasses of Prosecco
This new Tuxedo afternoon tea set is available from now until 30 June 2021.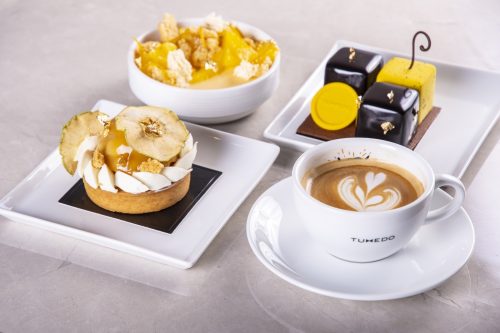 Be the first to sample three new creations: Apple Tatin (THB 190++), Ape 2.0: Banana & Chocolate Mousses (THB 220++) and Crème Catalane (THB 220++). The Crème Catalane is an orange creme brulee from the Catalan region in Spain. This 'grammable dessert is created by Chef Den. All three creations are Dessert of the Month and are also available in the afternoon tea set.
The cafe is a true cornerstone of European culture. Not merely a spot for coffee, cafes are places to meet and to appreciate life. Tuxedo Espresso Bar is known for delivering the highest standards of coffee and a superbly curated list of creations, a dedication to the long standing European cafe culture.
Tuxedo Afternoon Tea
Available daily from 12:00 pm – 4:30 pm
For more information or to make reservations, please contact 02 090 7888
or email FBreservations@carltonhotel.co.th