Superstar chefs from Europe, Asia, South America, Africa and the Middle East – whose establishments have collectively been recognised with 14 Michelin stars and a host of "world's best" awards – make Kimpton Maa-Lai Bangkok their home this month with an eight-hand, nine-course dinner at Ms.Jigger on February 23, and a 12-plate tasting menu with wine pairing at Stock.Room on February 24.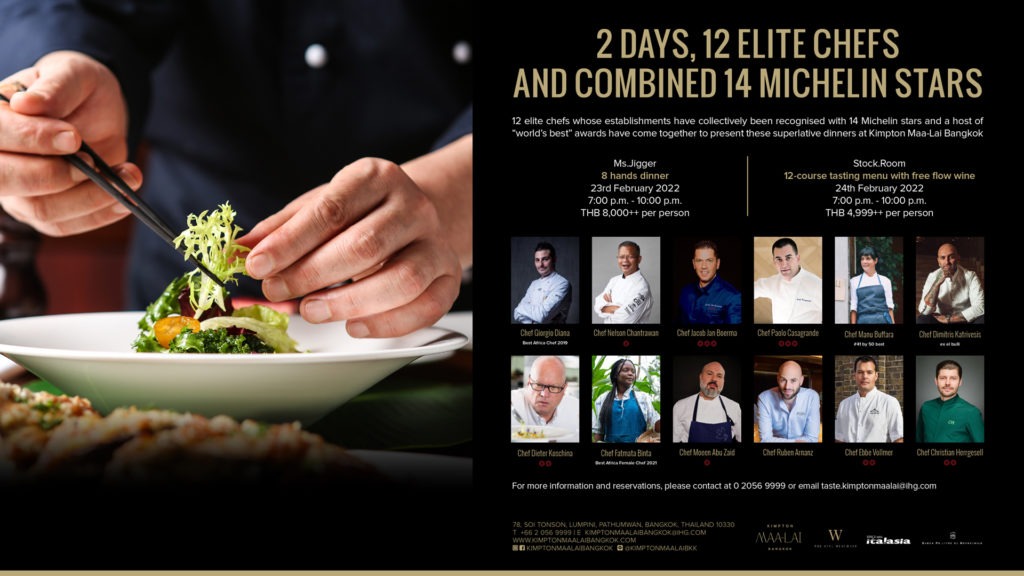 The 12 elite chefs of Dinner Incredible, who come together to present destination dinners in privileged locations around the world, are making Bangkok their first pit stop in 2022, with the line-up including:
Famed Italian chef Chef Giorgio Diana is CEO and founder of Dinner Incredible, the "multi-handed" dining concept based on intercultural exchange and celebrations of local raw materials.
For four consecutive years, Chef Nelson Chantrawan, or "Noom," has garnered a Michelin star for his restaurant Chim By Siam Wisdom in Bangkok. His outstanding career includes participation in Iron Chef Thailand and role as judge on Kitchen War Thailand.
Chef Jacob Jan Boerma helms the three-Michelin star De Leest in Vaassen, Netherlands and the one Michelin-star White Room at the Grand Hotel Krasnapolsky in Amsterdam.
Chef Paolo Casagrande is chef of the three-Michelin star Lasarte Restaurant in Barcelona, Spain.
Chef Manu Buffara is the executive chef and owner of Manu in Curitiba, Brazil which has been recognised by the World's 50 Best Restaurants and Best Chefs Awards.
Chef Dimitris Katrivesis is Greece's culinary superstar and globally known as a master of Greek cuisine, both traditional and contemporary.
Chef Dieter Koschina is chef at two Michelin-starred Villa Joya in Algarve, Portugal, the first restaurant to receive this prestigious accolade in the country.
Chef Fatmata Binta is an award-winning chef born and raised in Freetown, Sierra Leone and an ambassador for Fulani cuisine.
Chef Moeen Abu Zaid is known for elevating Arabian cuisine globally and pays homage to the cuisine while re-imagining classic Arabian food at his pop-up restaurant "The Broken English" in Toronto, Canada.
At only 29 years old, the gastronomy of Chef Ruben Arnanz was acclaimed with a Michelin star at Villena Restaurante in Segovia, Spain; he was one of the youngest chefs ever to receive this distinction.
Chef Ebbe Vollmer is chef and owner of Vollmers in Malmo, Sweden, the first restaurant in the southern city to be awarded two stars by Guide Michelin.
Chef Christian Herrgesell is the former head chef of Time Raue, one of Germany's most decorated establishments and named one of the World's 50 Best Restaurants.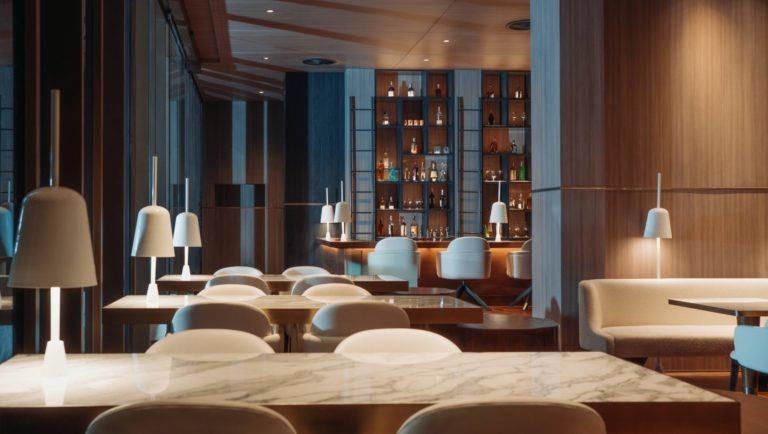 EIGHT-HAND DINNER AT MS. JIGGER
On Wednesday, February 23 at Ms.Jigger, the Italian cocktail bar and restaurant, a special eight-hand, nine-course dinner is presented by Dinner Incredible Chefs Giorgio Diana, Jacob Jan Boerma and Nelson Chantrawan, as well as Ms.Jigger Chef de Cuisine Danilo Aiassa, featuring flavours spanning Europe to Asia.
The menu features two dishes from each distinguished chef and a dessert that is a collaboration by all four talents.  Highlights include Sea Scallop Ceviche by Chef Chantrawan, Black Cod Beurre Blanc by Chef Diana, Japanese Beef with Miso and Asian Hollandaise by Chef Boerma and Winter Black Truffle Ravioli by Chef Aiassa.
The Eight-Hand Dinner takes place from 7 p.m. until 10 p.m. at THB8,000++ per person. The menu can be enhanced with a handpicked wine pairing from Wine Merchant at THB5,500++ per person.
Link for menu: https://www.kimptonmaalaibangkok.com/wp-content/uploads/2022/02/Ms.Jigger-Eight-Hand-Dinner-Menu-Digital.pdf
Please reserve your table at 02 056 9999 or email us at [email protected].