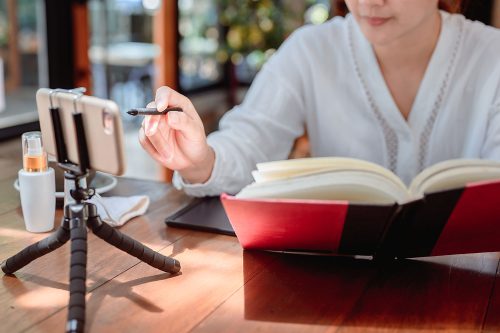 If you're looking for a results-driven, engaging mode of learning then blended learning is the solution.
Over the past few months, organizations in Thailand and across the globe have been forced to meet the age of digital transformation head-on. Whilst creating many challenges for organizations, it has also initiated positive change and opened up opportunities to improve and streamline our operations post-COVID. In times of change and uncertainty we must always seek opportunities to learn, innovate and grow.
One such example has been the proliferation of eLearning. Our current dilemma is helping to break down barriers with this mode of learning. Many organizations have replaced traditional face-to-face (F2F) training sessions and workshops with an eLearning platform and, in addition to this, employees working from home have been able to take advantage of studying personal development courses online.
Coming out of lockdown, it is imperative that we capitalize on this newfound confidence in eLearning and strategize our approach to integrate it smoothly and effectively into existing training and development plans.

Most eLearning courses offer the convenience of flexibility and equip learners with training materials and lessons at their fingertips. On the other hand, traditional F2F training offers personalized attention with immediate consultation and feedback.
Imagine if you combine these different learning modes and have the best of both worlds!
The good news is we can, and it's called Blended Learning.
Advances in technology have fueled the development of blended learning, taking it from a grassroots practice to perhaps the fastest growing form of learning today. Typically, learners will undertake some training via eLearning accompanied by face-to-face sessions.
Let's examine how blended learning can support the strategic and financial goals of an organization, specifically increased efficiency and productivity, a reduction in costs, as well as its environmental and social responsibilities.
A More Efficient and Productive Workforce
The University of Iowa conducted a study in 2018 to track and measure the effectiveness of a blended learning program, against programs taught 100% online or F2F. The results showed that 95% of students on the blended learning program achieved a grade C or higher, compared to 82% and 81% for F2F and online respectively.
How about Thai learners? What makes blended learning a more effective learning method for our teams?
Perhaps the standout feature which boosts effectiveness lies in the variety it proffers, meeting the learning needs of both Thais and millennials.
The need to learn by having fun is at the heart of the Thai learning style. Our teams desire a multi-faceted approach to learning, achieved in this case by a combination of F2F interaction and diverse eLearning activities involving gamification, interactive role-plays, simulations and scenarios, and quizzes.
The same also applies to 21st century learners.
Secondly, blended learning's effectiveness is built on the premise that it delivers training for each of the 4 main types of learner: visual, auditory, reading/writing, and kinesthetic. Everybody has a different learning style and each training group will contain people who learn best with each style. Consequently, blended learning ensures all learner needs are met.
Delivering a proportion of training online raises productivity as employees spend less time away from the office, and time management skills are developed. Not only this, blended learning promotes autonomous learning, increasing information retention.
Have you ever heard about Ebbinghaus' forgetting curve? This shows that learners will forget an average of 85% of what they have learned within three weeks post-training if they don't practice the newly learnt skills. However, by reinforcing the knowledge regularly we can reduce the rate of decline, hence increase the retention and ultimately optimize your training ROI.
Thanks to advancements in video conferencing software, certain segments of the F2F sessions may also be moved online and held more often.
Finally, let's consider the increased efficiency of the F2F sessions. As learners join these sessions equipped with the knowledge acquired online, significantly more time is given to active participation. There is less passive learning, and participants can dive straight into dynamic activities with practical application – unquestionably the decisive factor in learners retaining information.
That's how blended learning enables increased efficiency and productivity.
Reduction in Costs
A cost reduction of up to 60% can be realized through the implementation of a blended learning training program.
Firstly, organizations with offices in multiple locations see a direct reduction in travel expenses as more learning takes place online with less need for expensive conference rooms and facilities.
Finally, the costs incurred by hiring outside instructors can be reduced with economies of scale through the reuse of online materials and large-scale distribution.
Environmental Goals
Environment should be a priority for companies to build a more sustainable future.
Blended learning naturally creates a more eco-conscious environment in two ways:
Consumption of printed materials is significantly reduced as learners submit assignments online and learning supports are shared digitally via " the cloud"
Our carbon footprint is decreased and traffic congestion eased since we travel less, always a hot topic among Bangkokians.
All these actions combined provide a valuable tool to promote sustainable development.
Challenges of Blended Learning
However, despite the many benefits of blended learning, there are also challenges to be mitigated to make training fully effective.
Blended learning empowers staff through flexibility. However, we must establish an imperative to use it or do it, or it won't get done. Providing an online discussion board for each module, setting specific deadlines to complete modules, and giving recognition to employees who perform well in the online sections could be ways to accomplish this.
Everybody learns differently. Training methods should exhibit this, by developing programs geared to different learner styles.
By combining the advancements in technology with the personalized attention of Face-to-Face in-class training, we can improve effectiveness and enjoyment of training in eco-friendly ways, while reducing costs and empowering employees to take charge of their learning. With blended learning, everyone's a winner.
For further information about OPTIMA Blended Learning solutions: www.optima-training.com or contact@optima-training.com