What images and feelings come to mind when you hear the words "virtual selling"?
Robots? Technical problems? Fear? Maybe even excitement!
No matter how you feel, the reality is clear.
Organizations must develop their virtual selling skills through sales training to acquire more customers, close more deals, optimize their sales performance, and ultimately increase top and bottom-line numbers.
In 2020, sales professionals had to shift the way they were engaging prospects and customers.
To help you navigate this transition, today we'll cover:
the benefits of virtual selling
the challenges of virtual selling
How to increase the productivity of your sales team with virtual selling
Before we dive into that, let's just clarify exactly what we mean by virtual selling.
What is Virtual Selling?
Gartner Group defines virtual selling as "the collection of processes and technologies by which salespeople engage with customers remotely with either real-time or delayed virtual communications. These communications are often replacing in-person, face-to-face sales conversations."
You have probably been engaging in virtual selling for some time now, and it's certainly not a new concept.
But the COVID-19 pandemic has been a catalyst to make virtual selling a must, and the need to integrate it within long-term strategies will extend far beyond the end of this pandemic.
The focus of this post will be on sales teams who previously did their selling face-to-face, and not on other forms of virtual selling such as telesales or telemarketing.
With this in mind, let's consider WHY it's vital for businesses to upskill their virtual selling capabilities.
Benefits of Virtual Selling
Time to shine a light on 4 benefits of virtual selling:
Gives access to more stakeholders
Allows you to build trust quicker
Enables you to meet the changing needs of customers
Increased sales team productivity
1.Access to More Stakeholders
Virtual selling allows sales people to meet more people, whether this is globally or closer to home.
Perhaps you're looking to expand your business to new territories. Whereas previously sales teams were constrained by their geographical location, the world is now your oyster.
How about the challenge of getting all decision-makers together? This is a common problem and one that impacts the speed of the sales cycle.
Virtual selling makes it easier to set up video conferences with all relevant parties.
 2. Build Trust Quicker
A virtual presence allows regular communication that is critical to establishing and maintaining the trust that precedes every sale.
Trust comes from an in-depth understanding and knowledge of your customer's problems and challenges.
Salespeople who are equipped to use virtual tools to set up regular communication with customers are in a prime position to establish the bond in trust quicker than those who aren't.
3. Virtual Selling Quickly Aligns to the Customer's Changing Needs
Being able to track the customer's changing needs is another critical factor in winning the sale.
This is difficult when dealing with customers solely on a face-to-face basis as there are changes to the client's schedule and meetings have to be rescheduled.
4. Increased Sales Team Productivity
The productivity of your sales team can be increased through:
In 2018, the Global Business Travel Association estimated that $1.33 trillion was spent on business-related travel in 2017, and this number is expected to increase to $1.7 trillion by 2022.
Virtual selling enables businesses to reduce the cost spent on travel. No need to splash out on plane tickets or allocate resources to your sales team's fuel budget.
You're also helping to save the planet!
And less time spent travelling means more time spent on customer engagement.
Knocking a 2-hour car journey on the head means salespeople can allocate this time for other activities whether this is directly engaging with customers or preparing for upcoming video conferences.
But what about the challenges that sales teams face with virtual selling?
A Virtual Selling Mindset
it's natural to fear that you won't be able to communicate effectively, build relationships, be as competitive, or make the same impact through virtual channels.
As humans, we are social animals.
We are best at building rapport, solving problems, presenting ideas, and closing deals in physical face-to-face meetings.
Sales professionals are experts at reading customer's body language and emotions and adapting their sales pitch accordingly.
Switching to virtual selling therefore requires a shift in mindset.
Consider these 4 changes.
| | |
| --- | --- |
| What | How |
| Apply interpersonal skills in new ways | Remember the principles of rapport building. Empathy. Authenticity. Similarity and Shared Experiences. |
| Learn how to influence and persuade without the help of some of your senses | Show that you're listening and give positive cues. Look at the camera and not the screen. |
| Move at a faster pace | Customers will expect materials and documents to be shared quicker and meetings can be scheduled at short notice. |
| Get out of your comfort zone | Presenting your product or service virtually |
Virtual Selling Mistakes to Avoid
A study by RAIN group in June 2020 found the top 6 mistakes being made by virtual sellers were: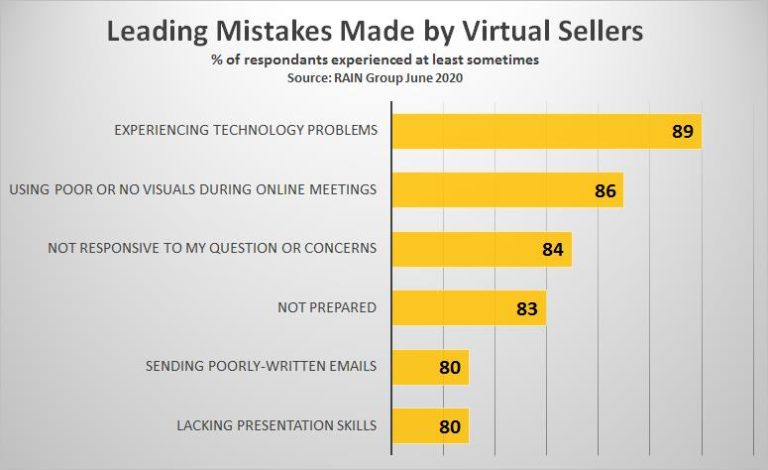 Let's quickly cover how to handle these mistakes to ensure your team isn't making them
Mistake

Solution

Experiencing technology problems

●       Test video, audio and lighting before the meeting.

Using poor or no visuals

●       Use images to capture attention

●       Screen share.

●       Avoid using large blocks of text

Not responsive to questions or concerns

●       Be prepared

●       Understand what's going on in the buyer's world

●       Use product demos

●       Demonstrate your ROI visually.

Not prepared

●       Clear instructions on how to join the meeting

●       Share agenda or materials beforehand.

Sending poorly written emails

●       Create a series of email templates

Lacking presentation skills

●       Train your team fully on how to use the virtual tools available.
Challenges abound when it comes to virtual selling.
But when you know the challenges, and know which sales skills you need to improve, you can adjust accordingly.
Final Thoughts
Virtual selling is here to stay.
Because every salesperson is engaging in some level of virtual selling, you don't need to "revolutionize" the way you sell.
Instead, think about how to apply your virtual selling tools more effectively to engage and connect with other humans while boosting your sales productivity.
Organizations that invest in sales training to develop the skills to sell virtually will benefit not only now, but also in the long term because the circumstances of today are redefining what will be normal in the future.
For further information :
Website :www.optima-training.com  
Email : [email protected]