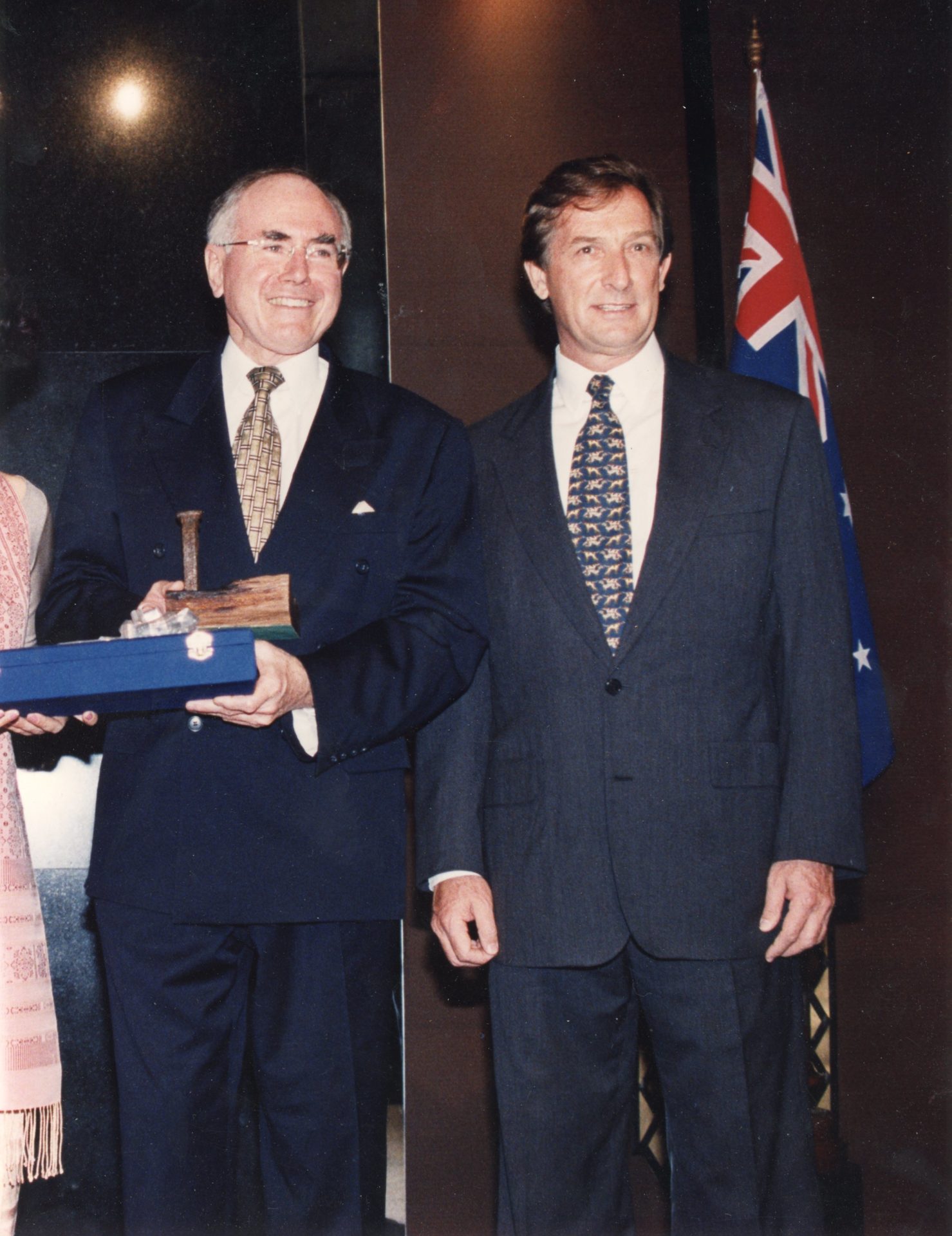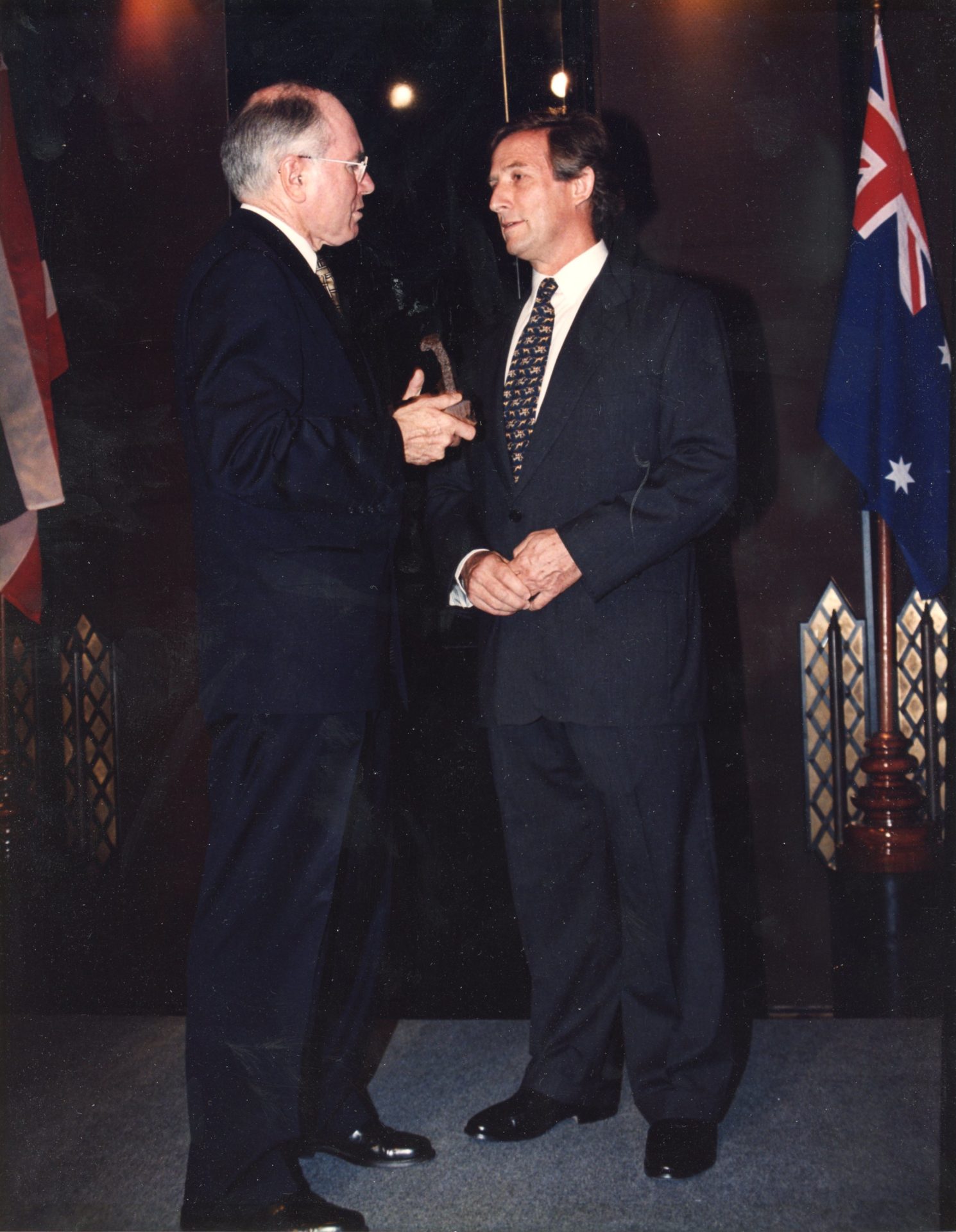 The role of AustCham Thailand in the very early developments with respect to Hellfire pass, and the support and the participation members are not universally known and recognized.
It is important that they be recorded and not be forgotten. Hopefully this short article will assist in keeping this memory alive, and prompt further input to fill in gaps in my memory or correct inaccuracies or add additional information to our collective knowledge of this part of AustCham history.
From that origin, the facilities now established at Hellfire Pass are truly impressive.  
Acknowledgement
More importantly we must acknowledge the hardship suffered and loss of life of WWII Allied prisoners of Japan brought to Thailand and Myanmar, who worked primarily on the Thailand Burma Railroad. They included some 13,000 Australians, of whom 2,700 died in Thailand.
And we must not forget the estimated 200,000 railway workers recruited by Japan to come to Thailand from the region, of whom some 90,000 died.
On a personal note, I acknowledge my Uncle, Keith Neighbour RAAF, who was one of those POW's who worked on Hellfire Pass and survived. He was captured in Java, moved to Changi, Singapore and then to Thailand. He spent 1,248 days (approx. 3 ½ years) as a POW – primarily in Thailand.
It is well recommended to make the trip to Kanchanaburi to visit the Interpretative Centre Memorial,   Hellfire Pass, the Walking Tail and the Kanchanaburi War Cemetery, to honor and try to feel  the experience of our POWs. If possible, make an ANZAC Day visit to participate in the very moving Dawn Service conducted within Hellfire Pass itself.
Background to Hell Fire Pass.
For those who are not fully aware of the Thailand Burma Railroad, it was a 415 km, 1,000 mm (or 3'3" ) gauge railroad under built Japanese management and control by British, Dutch Australian, New Zealand and American POWs and imported labourers between Nong Pladuk, Kanchanaburi, Thailand and Thanbyuzayat, Burma. Its purpose – to provide logistical support for the Japanese invasion of Burma.
The first POWs to work on the railway in Thailand arrived by rail in freight carriages from Singapore in June 1942 and initial works commenced on the Tamarkan Bridge [where?] in August 1942. The POWs had to march to and clear and build their own crude camps out of available local vegetation. The living and working conditions and their overall treatment was awful, all of which is very extensively documented and publicly available.
Construction of the line started at both ends in October 1942 and connected at Konkoita (just south of Three Pagoda Pass) in Thailand on 20 October 1943 with an extremely heavy work burden ("Speedo") the last 5 months to completion.
The line ran through virgin jungle, over numerous river crossings and through difficult and often hilly terrain during the wettest monsoon on record. Total construction time was 15 months, with an estimated average of 890 metres of line laid per day.  
Hellfire Pass is the name given to Konyu Cutting, a cutting of 75m long and 25m high through solid rock done with hand tools, tap drills and explosives, some 150 km from Nong Pladuk, Kanchanaburi.  POWs from the nearby Konyu camps who worked on the Konyu Cutting called it Hellfire Pass, with reference to its hell-like appearance as they laboured late into the evenings under oil lamps and bamboo fires. 
In the years following the end of WWII, most of the rails on the line were dismantled and exported from Thailand as part of war reparations. Most of the remaining railroad track was then overrun by jungle and all evidence disappeared except for major cuttings and some occasional rail, sleepers, pikes, and the like within that jungle. One 130 km section from Nong Pladuk to Nam Tok was re-laid in 1957, and now runs a regular service.
History of AustCham involvement with Hellfire Pass.
My involvement and recollections in this respect relate primarily for the period up to 1987 when I was involved as an AustCham Committee Member and then President in 1986 (succeeding Michael Ryan); and as immediate Past President when Ken Bradley succeeded me in 1987; and then again in 1998 as President, when PM John Howard attended the official opening of the Interpretative Centre Memorial, and I presented him with a portion of a sleeper with an embedded pike as a memento of his visit. My memory was also aided by some very useful notes from Ken Bradley AM and other reference materials.
This is a very interesting story in the early 1980's of the fortuitous interaction between three key Australians which lead to the location and development of access Hellfire Pass, and the AustCham assumption of the Hellfire Pass project.
Interestingly enough, the interaction of these three Australians and AustCham came out of an earlier Austcham Rattanakosin Bicentennial project in Kanchanaburi. Briefly, in 1982 the Rattanakosin Bicentennial (1782-1982) celebrated Thailand's two centuries as an independent nation under the Chakri Dynasty. The AustCham Rattanakosin Bicentennial project was the purchase and installation of a micro-hydro turbine designed to provide power to a new village community at Huai Kui Mang, Kanchanburi. The villagers in this were displaced by the construction of the nearby hydro-power driven Vajiralongkorn Dam. Crown Prince Vajiralongkorn flew in by helicopter to officially open that project, at which Bob Goninon a AustCham President presided and Gordon Jockel, Australian Ambassador attended. It was quite an event.
The three key initial players I earlier mentioned were Ken Bradley, a member of the AustCham Committee, and later President of AustCham. Jim Appleby, an engineer working with the Snowy Mountains Engineering Corp (SMEC) in the construction of Khao Laem Dam (now known a Vajiralongkorn Dam,) on the Khwae Noi River; Tom Morris, a former POW who had worked on the railroad, and had a vision of a memorial of the Thai -Burma Railway.
Ken Bradley was the Exploration Manager with Unocal (later called Chevron), and as an AustCham Committee member (under then President Bob Goninon) was actively involved with the implementation of the 1982 AustCham micro-hydro Rattanakosin Bicentennial Project. Engineers from SMEC, particularly Jim Appleby , provided technical support to the project.
Jim Appleby and his colleagues at SMEC working on the Vajiralongkorn Dam had come across certain areas of the line (now below the dam) including some rail, sleepers and pikes, and had taken some POWs visiting the area to these sites, including Hellfire Pass hidden in the jungle. I recall going with Jim, Ken, and others from AustCham to view areas of the line that had been discovered on the dam site.
Tom Morris was a re-visiting POW, with a strong historical interest and vision for a Memorial of some kind. On these visits Tom connected with Jim Appleby and Ken Bradley and provided significant historical information and support to Ken Bradley and developed in Australia the interest for a Memorial in Thailand.
The collective activity of these gentlemen, and no doubt many others they interacted with, seemed to have prompted the Australian Government to investigate the possibility of a memorial. In early 1984 Jim Appleby was asked to provide them with input as to possible locations for such a memorial.
Hellfire Pass was in due course selected for that memorial. It was considered one the very few solid pieces of evidence of the railroad remaining, was a dramatic and emotional symbol, was within reasonable driving distance from Bangkok and Kanchanaburi City and was close to the major highway.
When Jim Appleby left Thailand, after the dam was Dam was officially opened by the then Crown Prince Vajiralongkorn in April 1984, Ken Bradley took up the lead.
Ken gained full AustCham support for the project and a Hellfire Pass Sub-Committee of AustCham was set up with Ken as Chair. Ken had a real passion for the project and put in major hours on it. He gave us very lengthy and detailed reports of progress at all our Committee meetings. Under his leadership, he worked with a committee comprising volunteers from the Australian Embassy, SMEC and others – and was greatly supported by Defence Attaché Lachie Thompson – a jazz musician and fluent in Thai language, who was regularly invited to Chitrlada Palace for jam sessions with King Bhumipol and others.
I recall that in the early days there were a number of visits of AustCham volunteers to the Hellfire pass site to clear areas within and around the Pass; and later considerable independent work was done on that front by Rod Beatty, an Australian living in Kanchanaburi.  AustCham arranged and assisted with construction of wooden steps to facilitate access and a number of fundraising activities, including sale of slices of original rails, to support the project costs.
In March 1985 permission was received from the Thai Ministry of Foreign Affairs to construct a memorial at Hellfire Pass, and in May 1985 the Australian Government provided A$25,000 in support through the Australian Bicentennial (1788-1988) celebration funding for Commemoration of Historic Events and Famous People.
The first AustCham tours of Hellfire pass followed, and visitors included Sir Edward "Weary" Dunlop– well known and honored for his very significant POW efforts in support of his fellow POWs on the line. Thereafter during 1985/86 there were many visits by POWs and families, and politicians from Australia including Bill Hayden (then Governor General), Bob Hawke and Tim Fischer. During Bill Hayden's visit, while I was AustCham President, he also officiated at and cut the ribbon at our new AustCham Offices on Suriwongse Road, subleased from Pfizer – then run by Australian Tom Prendergast, AustCham member and Country Head of Pfizer.
In 1987, after Ken Bradley succeeded me as AustCham President , a number of events took place including  finalisation of arrangements with the local military of the design for pathways and commencement of their construction; installation of a Memorial Plaque on the face of the cutting and a dedication ceremony in the company of the Australian (Dick Smith) and New Zealand Ambassadors and Weary Dunlop and publication of the First Edition of " Hellfire Pass Memorial: Thailand -Burma Railway" ( a  fine booklet compiled for AustCham by Ken Bradley, published in 1987, and updated for many years till at least the 6th Edition in 19980; the collection of 10 original rails and 40 sleepers and spikes for the War Memorial in Canberra and the hosting of a visit by PM Bob Hawke to the war graves at Kanchanaburi.
In 1989 Ken Bradley left Thailand and subsequent AustCham Presidents (in particular David Wright, President in 2003-04) and Committees carried forward the good works on the support and maintenance of Hellfire Pass through to the mid 1990's when the Australian Government took over the overall development and management of Hellfire Pass and its facilities.  
A very low key and modest but focused and determined Ken Bradley was deservedly awarded an AM in recent years for his efforts on Hellfire Pass in Thailand and his subsequent good works in Australia. He tells me he is working on a more detailed history which we will all look forward to.
Signature post 1987 events included:  
April 1989 – Rails re-laid by 'C' Company 3rd Battalion, Royal Australian Regiment.;
April 1990 ANZAC Day Dawn Service and Dedication for re-laid rails;
June 1990- Maintenance visit by Australian Navy – HMAS PERTH and HMAS SWAN;
November 1990 – Maintenance visit by Australian Navy and attached Australian Army service personnel – HMAS TOBRUK;
October1991 – Demolition of wooden stairways by SAS Regiment;
Nov-Dec 1991 – Construction of concrete stairways;
February 1992 – Dedication of Monument with time capsule;
July 1993 –Exercise Burma Rail '93' by SAS Regiment;
April 1994 – Visit by Australian Prime Minister Paul Keating;
April 1994 – Interment of the ashes of Sir Edward "Weary" Dunlop;
May –Aug 1994 –Investigation of railway from Konyu to Compressor cutting and preparation of proposal for major development;
Dec 1994 – Feb 1995 – Reconstruction of "Bamboo Trail";
May 1995 –Australian Government announces the grant of funding to develop the site into a significant memorial;
May 1995 – April 1996 – Clearing of 4 ½ kilometres of the abandoned railway and establishment of a walking trail.;
April 1996 – Official opening of Memorial Walking Trail.;
Aug 1996 – Feb 1997 – Construction of way-stations and rest areas along the Walking Trail;
Aug1997 – Mar 1998 – Construction of the Interpretative Centre Memorial;
April 1998 – Official opening of the Interpretative Centre Memorial by Australian Prime Minister John Howard.  
Learn more about Kenneth Bradley OAM: https://www.austchamthailand.com/austchams-former-president-mr-kenneth-bradley-awarded-oam/